News
All of the latest news for the punk and OI! scene from FFRUKiT!
Published on 1st October 2016 at 10:04
Published on 22nd July 2016 at 12:49
Ian Hunter to release new album
'Fingers Crossed'
Out

September 16th 2016

on Proper Records
Listen to new David Bowie homage track 'Dandy' HERE
UK tour in November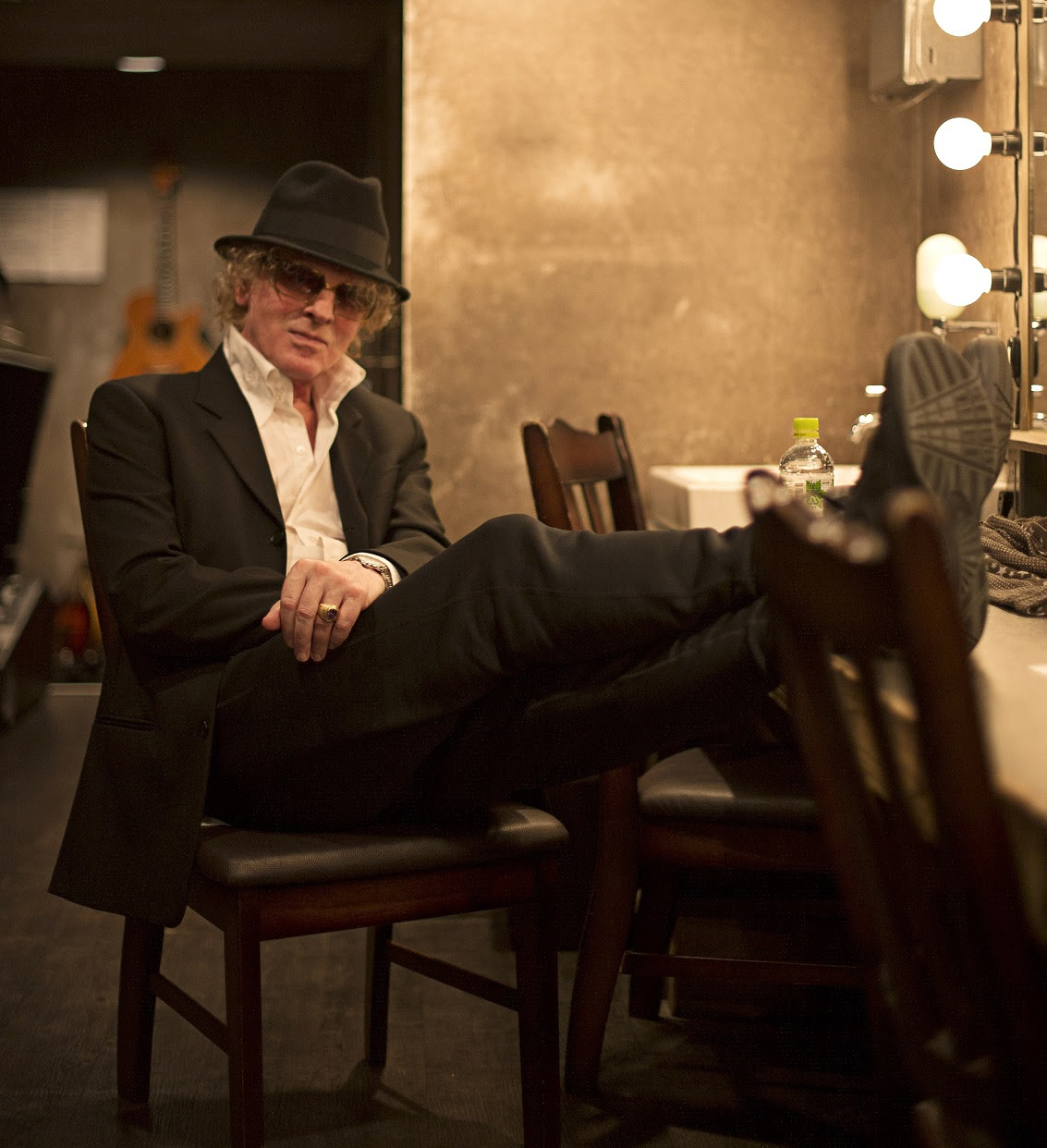 'Dandy' is out now and can be purchased from iTunes HERE
Ian Hunter's latest studio album, 'Fingers Crossed' unveils ten new, self-penned songs including his much-anticipated homage to David Bowie 'Dandy'. Recorded at HOBO Studios in New Jersey, and co-produced by Hunter and Andy York, the record features his magnificent Rant Band and is the follow-up to 2012's acclaimed 'When I'm President'.
As leader of '70s British rock legends Mott the Hoople and as a hugely influential solo artist, Ian Hunter is widely revered as one of rock'n'roll's most compelling performers and one of its most articulate songwriters. As author of such immortal anthems as, 'All The Way From Memphis', 'Once Bitten, Twice Shy' and 'Cleveland Rocks' and the voice of such landmark albums as, 'All The Young Dudes', 'Mott', 'Ian Hunter' and 'You're Never Alone With A Schizophrenic', he remains a hero to fellow musicians and fans around the world.
The compositions on 'Fingers Crossed' see Hunter covering typically wide-ranging subject matter.  'Dandy', his fond tribute to David Bowie reflects on a relationship cemented in 1972 when Bowie produced Mott's album All the Young Dudes and provided its hit title track. "I think 'Dandy' might be my favourite track on the album," Ian admits "I like the line – 'and then we took the last bus home'. David was an incredible artist with an insatiable curiosity for everything."
'Ghosts' was inspired by a November 2014 visit to Union Avenue in Memphis where Ian and the Rant Band were invited to jam in rock 'n' roll pioneer Sam Phillips' legendary Sun Studio. Title track 'Fingers Crossed' is a 1750's sea-faring tale of impressment, when men were taken into the Navy by compulsion and forced recruitment.
"'Fingers Crossed' was not inspired by a book" Ian comments, "actually it wasn't inspired by anything material. I've no idea where it came from as I simply woke up one day with the line – 'I was pressed into service, through no fault of my own' – and from there the song took its own course. It could only go one way. It's great when you get a strong opening line!"
'White House' injects a fun element, based on real-life … and a real beaver … while 'Bow Street Runners' tells the 18th Century tale of the Fielding Brothers. Hunter explains: "In the 1700s half-a-million people lived in London and there were no cops, so crime was rampant. It was crazy. One of the Fielding brothers was known as Blind Beak – he couldn't see but he could smell crime and recognized thousands of criminals by the sound of their voices – so the story goes. The brothers Henry and John Fielding formed the Bow Street Runners … Britain's first Bobbies!"
'Morpheus' is framed around the Ancient Greek god who had the ability to mimic human form and shape people's dreams and has proved "the instant favourite of many people who have heard the album," Hunter reveals. "I'm delighted with 'Fingers Crossed'," he adds; a sentiment sure to be shared by fans far and wide!
November tour dates:
04 LEAMINGTON The Assembly
05 GLASGOW Garage
07 GATESHEAD The Sage
08 CARDIFF Tramshed
09 MANCHESTER RNCM
11 LONDON 02 Shepherd's Bush Empire
12 BUCKLEY The Tivoli
13 HOLMFIRTH The Picturedome
Order the album from Propermusic.com and receive a free non-album track 'Seein' Red':
The album is also available at Amazon and iTunes
Published on 7th July 2016 at 17:42
NEW SD BARRETT FILM CONTAINING SUBSTANTIAL UNRELEASED FOOTAGE ANNOUNCED

TOMORROW WILL BE 10TH ANNIVERSARY OF SYD'S PASSING
CAMBRIDGE LIVE TEAMS UP WITH CAMBRIDGE FILM FESTIVAL FOR FILM PREMIERE AS PART OF SYD BARRETT CELEBRATIONS
SYD BARRETT WALKING TOURS ALSO CONFIRMED

Cambridge Live has announced that it is teaming up with the Cambridge Film Trust to premiere a series of films about both Syd Barrett and the Swinging Sixties at the 2016 Cambridge Film Festival, as part of its celebrations of the life and work of Syd Barrett who passed away on the 7th July 2006.
The centre piece will be a film, entitled 'Get All That Ant?', a free form documentary filmed by a former school friend and fellow art student of Syd Barrett's, Anthony Stern.
The documentary feature is made up of film footage, stills and archive footage taken during the 1960s and filmed in Cambridge, London and San Francisco. With the majority of footage having never been seen before, the film includes live performance footage and stills from The Rolling Stones, The Doors, Pink Floyd and Donovan as well as footage of friends and colleagues of Syd Barrett including Iggy Rose, the girl on The Madcap Laughs album sleeve and former girlfriends Libby Gausden and Jenny Spires.
The film will premiere as part of a series of film screenings about Syd Barrett and Pink Floyd on Friday 21st October at the Cambridge Guildhall as part of the 36th Cambridge Film Festival which runs from 20th – 27th October.
In addition to the film premiere, Cambridge Live has teamed up with ISpySydinCambridge.com who are offering Syd Barrett-themed walking tours of Cambridge on the weekend of the concert. Led by former school friends of Syd Barrett, Stephen Pyle and Warren Dosanjh, the tours trace some of the key places in the city relevant to the life of the former Pink Floyd guitarist including his former family home, his school, as well as David Gilmour and Roger Water's 's family homes.
The film premiere and walking tours are part of a series of previously announced celebratory events about former Pink Floyd member Syd Barrett centered around the unveiling of a piece of public art, commissioned in collaboration with Syd Barrett's family, on Thursday 27 October inside the Cambridge Corn Exchange (the location of his final ever live performances). Following the art unveiling is a live concert entitled 'Syd Barrett – A Celebration' featuring Swedish group Men on the Border backed by the Sandviken Symphony Orchestra, with lighting from original Pink Floyd lighting designer Peter Wynne-Wilson.
Tickets for the fim screenings and the walking tours will be available from www.cambridgelivetrust.co.uk
Speaking about the premiere of 'Get All That Ant? Filmmaker Anthony Stern said "The film came about after a diagnosis of Parkinsons encouraged me to make sense of the last fifty years of my life. Delving through my cellar, I found suitcases full of Nagra tapes, film reels and over 7000 still photographs from the period 1963 – 1970. This film is a homage to that time, capturing the dreams, memories and reflections that sprung from a moment when we really thought we could change the world. Fifty years on, I'm starting to think these values are starting to reemerge".
Cambridge Live Operations Director Neil Jones said "It's great to link the world premiere of Anthony Stern's film to this year's Cambridge Film Festival. The footage in the film has locked away for over 4 decades and makes for an incredible documentary of the Swinging Sixties by a man who was at the very heart of the scene and captured it all first hand. Along with other films about Syd Barrett it should make for a fantastic evening".
More follows
Notes for editors
Syd Barrett and Pink Floyd
Syd Barrett (born Roger Barrett) was a founding member of Pink Floyd, one of the most commercially successful bands of all time. They have sold more than 250 million records worldwide and were inducted into the Rock n Roll Hall of Fame in 1996.
The public art was made possible by Section 106 funding from Cambridge City Council and is being unveiled in the year that commemorates both the 70th anniversary of Syd's birth and the 10th anniversary of his passing.
About Anthony Stern
Anthony Stern's father escaped from Nazi-occupied Czechoslovakia and came to live in Cambridge, where he was born. Growing up there in the 1950s his contemporaries included David Gilmour, with whom he was at school, and fellow art student Syd Barrett (then known under his birthname Roger), with whom he put together a joint art exhibition. During the sixties he worked as a professional photographer and filmmaker which offered a front row seat, observing the emergence of a radical, exciting, experimental counterculture, as well as being an enthusiastic participant in the new scene.
After the sixties came to an end, around 1973, Anthony changed direction, taking a course in glass at the Royal College of Art which led to a highly successful career and business in the field of glass making. Six years ago Anthony was diagnosed with Parkinson's Disease, which was a profound shock. It began a process of reassessment of what his life has been about. The thousands of film stills left locked in a draw came out and the 16mm film stock was re-threaded onto the Steenbeck, reel to reel sound tapes were once again listened to on the Nagra. The result, after three years of editing, is the film 'Get All That Ant?'.
About the Cambridge Film Trust and Cambridge Film Festival
The Cambridge Film Trust champions independent cinema and fosters film culture and education, primarily in Cambridge and the Eastern region but also throughout the UK. They deliver screenings, events and special seasons that enable audiences to engage with film culture in a challenging and creative way. The highlight of their year-round programme is the Cambridge Film Festival, which was established in 1977 and is undoubtedly one of the UK's most innovative film events.
Published on 16th May 2016 at 17:05
BILLY BRAGG & JOE HENRY
NEW ALBUM – 'SHINE A LIGHT: Field Recordings From The Great American Railroad'
To be released o

n 23rd Sept '

16 On Cooking Vinyl

+ UK SHOWS ANNOUNCED

Recorded while travelling across America by train Shine A Light features songs originally made famous by Hank Williams, Lead Belly, The Carter Family, Jimmie Rodgers, Glen Campbell, Gordon Lightfoot & more

WATCH BILLY BRAGG AND JOE HENRY PERFORM 'THE MIDNIGHT SPECIAL' HERE
Like many a British musician before him, Billy Bragg, bard of Barking, singer songwriter, political activist, and musical historian has made no secret of his obsession with the songs and the mythology of the Americas, not least those of his artistic and philosophical forebear Woody Guthrie.  With his friend and collaborator, US singer songwriter Joe Henry, he has made an album that focuses on the transformative part the railroad played in disseminating the songs that gave birth to the rock'n'roll era.  'Shine A Light – Field Recordings From The Great American Railroad' by Billy Bragg and Joe Henry, released on Cooking Vinyl on 23rd September '16, is a collection of railway-themed classic songs recorded in the course of a 65 hour journey across the US on the Texas Eagle railroad service. Featuring thirteen songs originally recorded by legendary singers such as Lead Belly, Hank Williams, Jimmie Rodgers, Glen Campbell and more, the album is an atmospheric travelogue, a gripping lesson in musicology, but most importantly it is a beautifully recorded collection of wonderful tunes.
In March 2016 Billy Bragg and Joe Henry, guitars in hand, boarded a Los Angeles-bound train at Chicago's Union Station. Winding along 2,728 miles of track, the pair recorded songs while the train paused to pick up passengers. In waiting rooms and at the track side in St Louis, Fort Worth, San Antonio, Alpine TX, El Paso and Tucson they set up their recording equipment, and performed classic railroad songs while keeping half an eye on the train and jumping back on board just before pulling out for the next town. After four days crossing the country, they pulled into Los Angeles at 4:30am, recording their final song in Union Station accompanied by the first chirpings of the dawn chorus.
The resulting album 'Shine A Light: Field Recordings From The Great American Railroad' features the perfectly matched voices of Bragg and Henry and captures the varied atmospheres of the environments in which they recorded—from the close proximity of soft-furnished sleeping cars to the cathedral-like ambience of historic railway stations.
Says Billy: "Railroad songs provided the bedrock of American popular music, from Jimmie Rodgers, the Singing Brakeman, to Lead Belly, whose repertoire provided several of the songs for this project. In this country, Lonnie Donegan's 1956 hit 'Rock Island Line' sparked the skiffle craze, inspiring a generation of British teens to pick up guitars and form the groups that invaded American in the 60s, from the Beatles to Led Zeppelin.
Growing up in the UK, I'd always been aware of this tradition but when I travelled to the US, I was surprised to find how few people look to the railroad as a means of transport. With this project, we wanted to explore the transformative power that the coming of the railroad had on the lives of ordinary people by taking these songs back to the places that inspired their creation. Travelling on the train and recording the songs as we went allowed us to both visit places that were important 125 years ago when the lines were laid, but to also explore the viability of the railroad as a means of transport in the 21st century."
Says Joe: "The emergence of the railroad in America boasted of our might and sprawling enormity, yet signaled a deep desire for close community, connectivity. The songs that grew out of and alongside this innovation remain to tell this story of collective national character."
Billy Bragg and Joe Henry most recently worked together when Henry produced Bragg's acclaimed 2013 album Tooth & Nail. The duo will tour the UK together later this year, performing songs from 'Shine A Light' and more. Full tour details are as follows:
NOVEMBER
7    LONDON Union Chapel
8    LONDON Union Chapel
9    CANTERBURY The Marlowe Theatre
10    BRIGHTON St.George's Church
12    PORTSMOUTH New Theatre Royal
13    COVENTRY Warwick Arts Centre
14    GUILDFORD G Live
15    BURY ST EDMUNDS The Apex
17    NOTTINGHAM Playhouse
18    MANCHESTER The Royal Northern College of Music (RNCM)
19    LINCOLN The Engine Shed
Track Listing for Shine A Light…
1. Rock Island Line – Traditional (Recorded by Lead Belly, Lonnie Donegan)
2. The L&N Don't Stop Here Anymore – Jean Ritchie
3. The Midnight Special – Traditional (Lead Belly)
4. Railroad Bill – Traditional (Riley Puckett)
5. Lonesome Whistle – Hank Williams
6. KC Moan – Traditional (The Memphis Jug Band)
7. Waiting For A Train – Jimmie Rodgers
8. In The Pines – Traditional (Lead Belly, The Louvin Brothers)
9. Gentle On My Mind – John Hartford (Glenn Campbell, Aretha Franklin)
10. Hobo's Lullaby – Goebel Reeves (Woody Guthrie)
11. Railroading On The Great Divide – Sara Carter (The Carter Family)
12. John Henry – Traditional (Doc Watson)
13. Early Morning Rain – Gordon Lightfoot
Billy Bragg has been a fearless recording artist, tireless live performer and peerless political campaigner for over 30 years. Among the former Saturday boy's albums are his punk-charged debut Life's a Riot With Spy Vs Spy, the more love-infused Workers Playtime, pop classic Don't Try This At Home, the Queen's Golden Jubilee-timed treatise on national identity England, Half-English, and his stripped-down tenth, Tooth and Nail, his most successful since the early 90s. The intervening three decades have been marked by a number one hit single, having a street named after him, being the subject of a South Bank Show, appearing on stage at Wembley Stadium, curating Leftfield at Glastonbury, sharing spotted dick with a Cabinet minister in the House of Commons cafeteria, being mentioned in Bob Dylan's memoir and meeting the Queen. At their best, Billy's songs present 'the perfect Venn diagram between the political and the personal' (the Guardian).
In a career spanning 30 years, Joe Henry has left an indelible and unique imprint on American popular music. As a songwriter and artist, Henry is celebrated for his exploration of the human experience. A hyper-literate storyteller, by turns dark, devastating, and hopeful, he has an author's eye for the overlooked detail.
Henry has collaborated with many notable artists on his own body of work, from T Bone Burnett, Daniel Lanois, and Van Dyke Parks on one side of the spectrum, to Don Cherry, Ornette Coleman, Brad Mehldau, and Bill Frisell on the other. A three-time-Grammy-winning producer, Henry has made records for Bonnie Raitt, Hugh Laurie, Lisa Hannigan, Elvis Costello, Solomon Burke, and many others. In 2015, Henry helmed a recording session for the late Allen Toussaint. The resulting album, American Tunes, will be released this year.  In 2013, Algonquin Press published, Furious Cool: Richard Pryor and the World that Made Him, a book co-written by Joe and his brother Dave Henry.
Henry's most recent studio album, Invisible Hour, was released on his own Work Song label. The album features numerous guests including The Milk Carton Kids as well as Lisa Hannigan, who co-wrote the title track along with Henry and best-selling novelist Colum McCann.  As a solo artist and a producer alike, Henry's records are marked with a consistent sonic depth, attention to narrative, and emphasis on the beauty of spontaneity.
See Billy & Joe performing The Midnight Special here http://po.st/ShineALight1. This track is also available to download immediately when you pre-order the album from the official store or iTunes.
WEBSITE: http://po.st/ShineALight1
OFFICIAL STORE: http://po.st/SaLStore
AMAZON: http://po.st/SaLamz
ITUNES: http://po.st/SaLiT
Published by admin
|
Comments Off

on
Published on 16th May 2016 at 14:46
Published on 13th May 2016 at 13:12
Published on 5th May 2016 at 08:00
Impressing all with their debut show, Spanish bred, London based VERTICES played their second ever gig at one of FFRUK's renowned Reggae Punk Monday nights and swiftly showed why their post punk spiced, power rock fuelled sound was brewing a buzz.
With influences from the likes of Television, The Jam, B-52s, Gang of Four, Wire, Echo & The Bunnymen, and Jesus and Mary Chain spicing the raw fascination of their tenacious sound, the trio of MIKE CANNIBAL, JOSE REILLY, and AULLADOR THURSTON III proceeded to ignite ears and venue that evening in London.
SEGS JENNINGS (Ruts DC) and TARA REZ (The Duel) from FFRUK TV grabbed the band before they hit the stage to find out about their not so distant early days, how they met, and the band's recent emergence on the UK rock scene. Coupled with a tasty slice of their set that night, FFRUK TV introduces Vertices.
Published on 4th May 2016 at 08:00
It is fair to say that the acclaimed "Minesweeping" was one of 2015's most talked about folk/country rock inspired releases; the second album from O'CONNELL & LOVE a trove of songwriting treasures and musical highlights seven years in the making.
The band is the latest project from LARRY LOVE of Alabama 3 and long-time songwriting partner BRENDAN O'CONNELL, and comes with a voice and heart as punk and rebellious as it is darkly compelling.
SEGS JENNINGS (Ruts DC) and TARA REZ (The Duel) from FFRUK TV took a moment or four at an O'Connell & Love unplugged performance at the 12 Bar Club, London to talk with Larry about their project and also of the show that night, with pre-show nerves included, as well as talking attitudes in the music scene. With a mesmeric performance of 'Like A Wave Breaks On A Rock' from their latest album alongside the chat too, O'Connell & Love are indeed nothing less than "folk music with a hand grenade!" and captured in their element on FFRUK TV.
Published on 3rd May 2016 at 08:00
There are many obvious bands which get lauded as major sparks and inspirations within the seventies punk scene but just as potently amongst them is a band which never released anything, though rumours of a demo persist, and had a line-up as unstable as a Labour shadow cabinet in 2016.
The London SS though is recognised as influential as the Sex Pistols and was the breeding ground for many majorly recognised bands to come such as The Clash, The Damned, and Generation X. From Mick Jones to Brian James, Tony James and Matt Dangerfield to Honest John as examples, The London SS was the rousing step for a great many to spring from whilst providing its own impacting presence on the punk scene.
With the band just as potent on the capital's music scene since returning in 2012, SEGS JENNINGS (Ruts DC) and TARA REZ (The Duel) of FFRUK TV pulled up a bar stool with band original and guitarist BRADY to explore those early days through to the now; starting from his time in The Hollywood Bratson to London SS and beyond. Vocalist JIMI MCDONALD also joins the trio, additionally revealing romantic moments amidst feline odours whilst the informal chat comes surrounded by recent live footage of the band at their fiery tenacious rock 'n' rollbest.
Published by admin
|
Tagged Brian James, ffruk tv, generation x, Honest John, Jimi MCDonald, London SS, Matt Dangerfield, mick jones, Ruts DC, segs jennings, sex pistols, tara rez, the clash, the damned, the duel, Tony James
|
Comments Off

on The London SS meets FFRUK TV
Published on 2nd May 2016 at 08:00
Making his third appearance at a FFRUK night, there is no escaping that JOE MAXWELL is one of the UK's brightest young talents. Embracing all experiences through his band and solo performances, Joe is growing into a highly promising and always captivating proposition on the London music scene as shown by his latest acoustic performance at the 12 Bar Sessions.
Before playing his compelling set, Joe stepped out of the club into its legendary setting,Denmark Street, to chat with SEGS JENNINGS (Ruts DC) and TARA REZ (The Duel) of FFRUK TV. Starting with Joe's previous appearances with FFR UK and his band, the three reminisce about the club's home and history in Soho, its importance over the years with Joe, even fresh to the music scene, revealing the part it has already made on his emerging career.
With the mesmeric 'Lately I've See' taken from Joe's enthralling acoustic set that night, FFRUK TV gives you Joe Maxwell.
Published by admin
|
Tagged ffruk tv, Joe Maxwell
|
Comments Off

on The Past and Future, FFRUK TV Talks with Joe Maxwell