This CD is jam packed with hits written by Tara Rez and Andy Thierum
They are the next Strummer/Jones, Lennon McCartney they are simply great fuckin songwriters.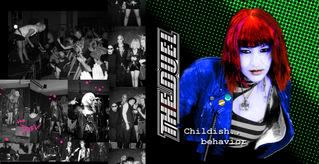 Andy rules on bass and keyboards and Tara sounds like she could be Debbie Harry's more punk rock sister. Sharing Guitar duties are Dave Renegade, Paul Laventhol and Phil Henry Jones while Pumpy is hitting the skins. A very tight band indeed.
Bowie's "Ashes to Ashes" major kicks ass. The Duel have to be one of the hardest working bands to come out of the UK. They are taking no prisoners and I am very proud of them.
I wish a Majors would get a clue but the Duel are doing a great job spreading the word themselves.
CHILDISH BEHAVIOR DISC 1 1. SOLITARY LIFE 2. JUMP 3. RAT ALLEY 4. MODERN DAY SLAVE 5. FREE WAY 6. HEY DOLL (Featuring Frankie Cornelli) 7. ONLY REBELS KNOW HOW 8. FIGHT ON THROUGH 9. 21 CENTURY (Vocals Matt Williams) 10. DEAD ROCK STARS (Featuring Rob Banks) 11. LIES 12. ROUND AND ROUND 13. GEARS OF WAR 14. SIDE BY SIDE
DISC 2
1. CIRCLE OF LIFE (Acoustic) 2. FIND A WAY (Acoustic) 3.SOLITARY LIFE (Acoustic) 4. MODERN DAY SLAVE (Acoustic) 5. ROUND AND ROUND (Acoustic) 6. DEAR ROCK STARS (Acoustic) 7. ROUND AND ROUND (Big Dub) 8. NEW DREAM 9. WAR 10. ASHES TO ASHES 11. WHO CARES (Featuring Frankie Cornelli)
Review BY Ginger Coyote :
https://www.punkglobe.com