Many children are suffering from heavy rains and heatwaves, and now they are facing the threat of typhoons as well. If you're curious about the current situation, try to check it out at least a little through the CCTV
Jamboree in KOREA
[Official Site]
South Korea has gathered over 43,000 teenagers from around the world in the Saemangeum reclaimed land, a place devoid of trees due to high salt levels, amidst a heatwave. Despite several attempts to plant trees over the years, the salt content has hindered success. International media has heavily covered the heatwave effects on participants aged 14 to 18 at the "World Scout Jamboree" event held at Saemangeum.
According to Reuters on the 3rd, record-breaking heat reaching 35°C (95°F) has caused participants to collapse one after another. Among the 43,000 participants, mostly teenagers aged 14 to 18, at least 600 have been treated for heat-related illnesses. A fire department official from Jeollabuk-do province was quoted saying that "most experienced minor symptoms like headaches, dizziness, and vomiting, but they all returned to the campsite."
This event marked the first global youth gathering after the COVID-19 pandemic. The report highlighted that there have been 16 deaths in South Korea due to relentless heat this year, and the event took place at Saemangeum, where the temperature reached 35°C (95°F) on the third day. Al Jazeera in the Middle East reported that about 400 participants suffered heat exhaustion on the first day alone, necessitating treatment at makeshift clinics set up at the campsite. Concerns were raised about hosting the Jamboree in an area without enough trees to provide shade from the scorching heat.
Already, participants at the site are eager to leave, with 43,000 people expected to converge within 24 hours, as noted in the report. South Korean citizens are also angered by inadequate preparation. Despite multiple warnings, authorities had reassured the public about preparations, only to now deflect responsibility.
Jamboree's problem
Considering the event occurred during South Korea's monsoon season, there should have been drainage measures in place. However, this was not done, causing puddles and breeding grounds for insects due to poor drainage during rainfall.
Source: Dispatch
[Related news]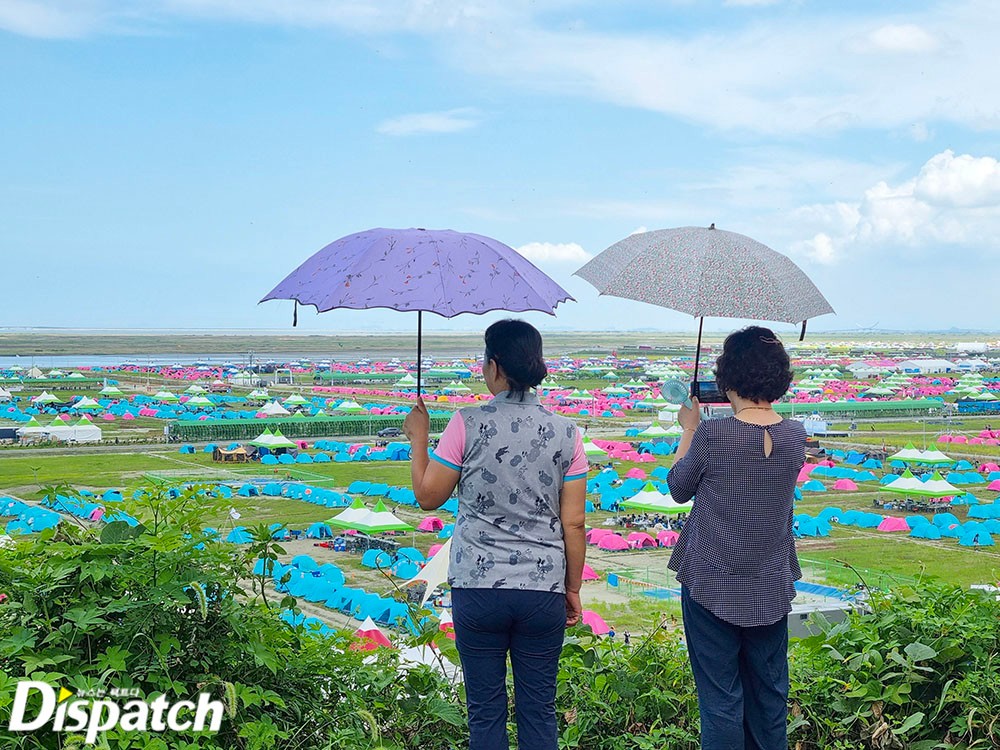 [디패Go] "그 텐트에 잠입했습니다"…잼버리, 새만금의 악몽
[Dispatch | 부안=김소정·구민지기자] "왜 하필 이렇게 더울 때 저럴까나? 가만히 있어도 이리 힘든… [더보기]
Korean company support
In response to this unprecedented situation, Korean companies and citizens have extended their support. Samsung dispatched over 150 new employees to the site. Additionally, a medical support team from Samsung Seoul Hospital, consisting of 5 doctors, 4 nurses, and 2 support personnel, was sent.
LG pledged support to mitigate heat-related issues, offering 200,000 bottles of beverages, cooling neck wraps, and shade tents. LG had previously supplied 10,000 neck wraps, portable fans, power banks, and 6 mobile refrigerators. They also promised to provide an additional 10,000 portable fans, as well as hygiene items like shampoo, soap, detergent, and mosquito repellent.
LG Uplus ensured free charging stations during the event, along with stable communication services through 5G wireless Wi-Fi routers and wired Wi-Fi. LG is also considering providing programs such as visits to LG Science Park in Seoul, showcasing its advanced technology, as well as smart factory tours at LG Electronics' Changwon and Gumi facilities. There are plans for excursions and experiential programs like visiting the Hwadam Forest Eco-park in Gwangju, Gyeonggi Province.
Typhoon Kanun
Due to Typhoon No. 6, named 'Kanun', predicted to hit the peninsula, 36,000 participants will be moved to the capital area that will not be directly impacted. Administrative and private educational facilities in the region are being secured for their accommodation.
Jambaree CCTV